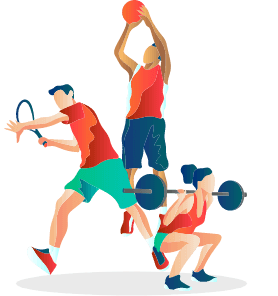 Beat Drugs Fund Supported Programme "Beat Drugs with Sports"
(2022/23 School Year)
Establishing a healthy lifestyle helps teenagers stay away from drugs; and sports plays an important role in a healthy life. Apart from enhancing the physical and mental well-being, teenagers may also establish social networks, improve interpersonal relationships and foster spirits of co-operation through sports. In this connection, the Narcotics Division, Security Bureau will launch the "Beat Drugs with Sports" Programme in the 2022/23 school year. All secondary schools in Hong Kong are welcomed to join the Programme. The Hong Kong Schools Sports Federation has kindly agreed to continue to be the supporting organisation of the Programme.
Objective
To promote healthy lifestyles and an anti-drug culture in secondary schools through students' participation in the organisation of sports-related and/or health-related activities, and in supporting student athletes taking part in sports competitions.
Contents
The Programme is a school-based student-led preventive education initiative. The activities are to be designed, organised and implemented by students.
The activities should incorporate anti-drug themes of "harms of cannabis and cocaine", "legal consequences of drug trafficking" and/or "how to say no to drugs".
The Beat Drugs Fund (BDF) will provide funding for participating secondary schools to organise activities that can meet the objective set out above.
Implementation
All secondary schools in Hong Kong are eligible. Each school may apply for a grant up to $25,000 for implementing the Programme in the 2022/23 school year.
All activities under the Programme must be designed, organised and implemented by students of the participating schools. Each participating school can nominate one group of students to be supervised by a teacher providing guidance and suggestions.
There is no limit on the number of activities to be organised. All activities should be implemented and completed between September 2022 and August 2023.
Upon completion of all activities, the final reports to be submitted by the participating students will be examined. Due recognition will be given to outstanding or creative projects and the students responsible for organising them, as well as the respective supervising teachers. The responsible students, supervising teachers and/or school principal concerned may also be invited to attend media interviews to share their precious experience gained by participating in the Programme.
Application Procedures and Deadline for Submission
Each participating secondary school can nominate one group of students to submit one application. Applicants are required to complete and submit one Application Form.
Applications delivered shall reach the office of the BDF Association by hand or by email (Address: 30/F, High Block, Queensway Government Offices, 66 Queensway, Hong Kong; Email address: sb-sports@sb.gov.hk) on or before 15 July 2022 by 6:00 p.m. If the applications are submitted by mail, the postmark shall be on or before 15 July 2022. Late applications or applications with incomplete information will not be processed further.
All submitted applications, whether accepted or not, will not be returned.
Enquiries
Applicants may contact the staff of the BDF Association at 2867 5974, 2867 5975 or 2867 5976 for any enquiries concerning the Programme.